ProfessorBriggs.com
On June 19, 2021, I completed a rather lengthy project that compiled and organized the historic high school football results for Mercer County's high school football programs (along with Slippery Rock, of course). The project began last spring and continued through the summer. I continued to work sporadically on it during the fall and over the holidays, but ended up not doing much with it during the spring, due to work commitments.
Here in June 2021, I completed the last portion of the project as I compiled Sharpsville, Slippery Rock, West Middlesex and Wilmington. I went in alphabetical order, so those were the last four. Slippery Rock, West Middlesex and Wilmington were three of the easiest to complete as those programs are all relatively "young" and results were readily available due to playing in the Tri-County League in the 1960s and 1970s.
Generally, finding information from the late 1930s through 2020 came pretty easily. In the 1910s, 1920s and early 1930s, schedules and results became more sporadic and less organized. For the most part, the premise of an actual "sports section" did not really emerged until well into the 1920.
Prior to then, sports news would be scattered around the newspaper, around actual news, hospital listings and various other items, such as Mr. and Mrs. John Q. Public of Farrell went and visited relatives in Titusville last weekend. I've included an example of such potpourri below: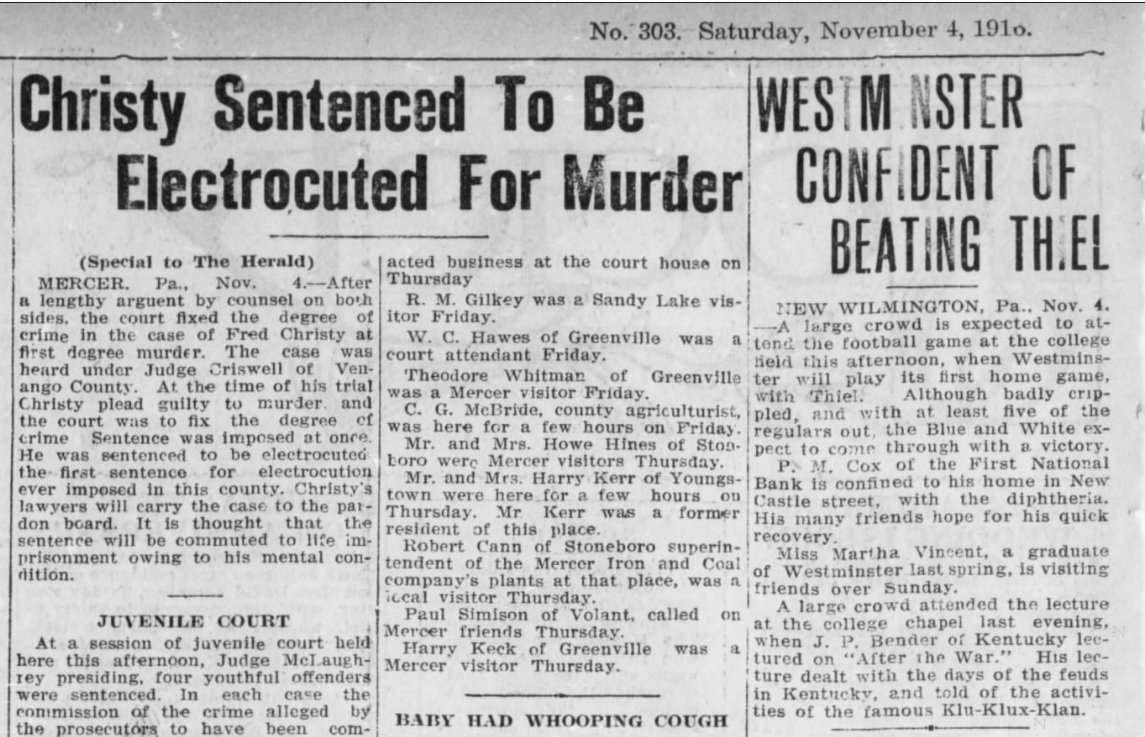 Westminster-Thiel is still a big deal in local college football now; 105 years ago, it apparently rivaled the first electrocution sentence meted out in Mercer County. (Another court commuted Defendant Christy's death sentence in 1917 after a change in plea, for the record).
I know that some schools played some games prior to the last year that I have listed for them. If more information is found, etc., I will update them. My goal is 100 percent completion, it's probably 98 to 99 percent right now. I don't know if 100 percent is attainable, but that is the objective.
Schools did not always sponsor football programs in those early years, so it is quite possible that eligibility standards had more "flexibility," if you will. Some games had varsity status for one team but junior varsity status for the other squad.
Some schools, such as Slippery Rock and West Middlesex, had football programs in the 1920s before the programs faded out. This project focused on a modern, continuous era with no or minimal interruption, such as Kennedy Catholic's hiatus.
Other schools had football programs prior to World War II before eventually being merged into other districts, such as Sandy Lake, Fredonia and New Wilmington. St. Michael's in Greenville sponsored football into the 1960s. Perhaps cataloging those programs' results will be on the docket in the future.
Other thoughts in no particular order:
*I enjoyed seeing some of the other sports stories of the day when researching schedules and results, whether it was big-time college football, local college sports or the baseball pennant races. As I worked backwards from 2020, it was clear to see how Major League Baseball dominated the headlines. The 1967 American League pennant chase, one of the greatest races in history, headlined every sports section in September, even on Saturday mornings when high school football stories ran.
*The high number of consolidated schools in central and western Pennsylvania over the last 60 years caught my attention. The Commonwealth of Pennsylvania pushed consolidation in the 1950s and 1960s and you could see the effects in the large schedule spreads that the Pittsburgh Press and Pittsburgh Post-Gazette ran each August or early September.
The 1962 school listings (Part 1 Part 2) are quite different than what we see six years later in 1968. I thought about the people who graduated from those schools and no longer have a true alma mater to return to, as well as the small towns whose high schools that were swallowed up in what might have felt like a Soviet Union collectivization back then.
I am sure that most of those mergers made sense educationally, financially and logistically. But you have to wonder if a few of them throughout the region were done solely for the sake of doing them and not for the short- and long-term benefit of the people.
*One of the schools we lost back in the 1960s? Triangle, located in Sidman, Cambria County. It's now part of Forest Hills (along with Adams-Summerhill, South Fork-Croyle and Beaverdale-Wilmore).
*The former Captain Jack High School did not disappear in a merger but is now known as Mount Union High School in eastern Huntingdon County. The school changed from "Captain Jack" to Mount Union in 1966.
*The region's small college football programs received far more press coverage in the region than did the Pittsburgh Steelers or the NFL in general prior to World War II. Games involving schools such as Carnegie Tech, Grove City and Washington & Jefferson garnered equal billing with Pitt, Penn State, Notre Dame and Army.
*Running searches for some schools became tricky when they played Saturday games because of colleges with matching names, notably Grove City, Slippery Rock and Wilmington. Slippery Rock played Saturday afternoon home games until 1986, so searching for a score in 1983 against Wilmington (there's a Wilmington University in western Ohio) would bring back a lot of results. Wilmington College (then) played in the NAIA, so the Quakers would play Geneva, Waynesburg, Westminster, et al, and would show up in the score lists, along with Wilmington (Pa.) High School playing an afternoon tilt at West Middlesex or a Saturday night game at Shenango.
*Speaking of night games, in 2021, it is a real novelty if a game is not played on Friday night at 7 p.m. Until the 1980s, Lakeview, Reynolds, Slippery Rock and West Middlesex did not have lights. Mercer had lights at its old field on Lamor Road, where the Mercer soccer teams now play. Lights went up at the "new" Mercer field in 1985.
Farrell started playing home night games in 1930, but abandoned night games in 1971 as a safety measure. The lights came back on in 1981. Sharon played afternoon games in 1972 upon recommendation of police and other authorities after the season opener at night with Sharpsville.
The start time of night games has consistently moved earlier and earlier. Games kicked off at 8 p.m. or even 8:15 p.m. well into the 1980s. Then 8:00 starts turned into 7:45 p.m. starts. The 7:45 games became 7:30 starts. Now, for about 20 years, almost every night game starts at 7 p.m.
*Prior to 2004, we had various leagues/conferences for all sports, including football, in District 10. The Tri-County League, the Northwest Conference, the Keystone Football League, the Mercer County Athletic Conference, the Mercer County League (for Classes "A" and "B"), the Crawford County League and the French Creek Valley Conference all housed one or more of our local teams at one time or another.
It is no secret that I would like to see all-sports conferences return in District 10 (FCVC, Erie County League, MCAC, etc.). No doubt, I'll start beating that drum later in the summer and into the fall. But, in looking back at some of the old conferences, the Good Old Days were not necessarily that "good."
The Northwest Conference started in 1971, but not every team played the same number of games. Check out the 1975 and 1976 standings. In the early years of the MCAC, that problem popped up again. In 1990 and 1991, Sharon played six MCAC games while fellow Class AAA team Reynolds played seven MCAC games. The big/small school split later in the 1990s (three Class A teams in one division, the AA and AAA teams lumped together, but split standings) was not much better.
In the 1970s, Lakeview, Mercer, Slippery Rock, West Middlesex and Wilmington all played in District 7's Tri-County League. Laurel, Mohawk, Neshannock, Shenango and Union also played frequently in that league. (Lakeview, Mercer and West Middlesex were not eligible for the playoffs at that time, although that changed in the 1980s as Mercer qualified in 1981). That league, as well as the FCVC (and its predecessor, the Crawford County League), featured geographically close schools of similar size that usually played a round-robin schedule.
In the 1980s, the Keystone Football League formed when Northwest Conference breakaways Grove City, Hickory, Reynolds and Sharpsville joined independent Kennedy Christian and former District 7 members Farrell and Sharon. This new league was to have had an eighth team, Brookfield (Ohio), but Brookfield withdrew in 1980, two years before the league began play. The OHSAA limited out-of-state play in those days in terms of playoff eligibility.
The idea for a "Penn Ohio" league first came to light in 1976. It is interesting to read that Campbell Memorial and Vienna Mathews were in the initial plans for the new league but Grove City was not, preferring to stay in the Northwest Conference. Campbell belonged to the original Steel Valley Conference in the Youngstown-Warren area while Mathews competed in the Trumbull AA league at that time.
*Brookfield belonged to the Trumbull AA league until being getting the bum's rush in 1976. Why is that relevant here? Well, a game with Hickory ultimately led to Brookfield becoming "independent" in the years that followed.
In 1975, Champion defeated Brookfield in a game marred by a fight. For their 1976 game, the Trumbull AA league made the teams play on a Saturday afternoon, October 2, 1976. Champion and Brookfield administrators agreed to play on Friday night, the 1st, but league honchos nixed that idea. Brookfield, which had been placed on probation by the Trumbull AA league, decided to not play Champion and picked up Hickory, which had an open date that weekend. That led to Brookfield being ousted.
*With Conneaut, Ohio, playing full District 10 schedules but still playing in Ohio playoffs, one has to wonder if that is an arrangement that might be attractive to Brookfield in the future? Perhaps that ship sailed long ago, but it is intriguing. Brookfield has history with 11 of our 13 teams, including 56 all-time meetings with Sharpsville.
| | | |
| --- | --- | --- |
| Opponent | Total Meetings | Last Meeting |
| Farrell | 12 | 1972 |
| Greenville | 13 | 1962 |
| Grove City | 13 | 1981 |
| Hickory | 35 | 2002 |
| Kennedy Catholic | 14 | 2000 |
| Mercer | 1 | 1946 |
| Reynolds | 2 | 1970 |
| Sharon | 7 | 1993 |
| Sharpsville | 56 | 2001 |
| Slippery Rock | 1 | 2003 |
| Wilmington | 2 | 1960 |
*It would be cool if the Sharpsville-Brookfield series could be renewed. The schools are similar in size and the distance between Addison Field and McCracken Field is 3.6 miles. Sharpsville-Brookfield, Hickory-Brookfield, Kennedy-Brookfield, etc. would be a lot more interesting on both sides of the state line than Sharpsville-Cochranton, Brookfield-Garfield, Kennedy-Iroquois, Brookfield-Western Reserve or Hickory-Corry.
Other rivalry games that should be played every year (whether they currently are or are not):
*Sharon-Farrell (The Steel Bowl): No explanation needed.
*Greenville-Grove City: This is the most-frequently played series in Mercer County, with Greenville leading the 100-game series 50-45-5. Unfortunately, the teams won't play in 2021; hopefully it works out for 2022-23. The series dates to 1913. Long before Hickory, Reynolds or Slippery Rock came into the picture, Greenville and Grove City were archrivals in football.
*Greenville-Sharpsville: This is the most-frequently played active series in Mercer County (79 games). Sharpsville's 3-0 sweep last year puts Sharpsville ahead 39-38-2. The teams first played in 1910. It seems likely that these two schools will be the same class in coming years, so the series should continue. Or, if we had all-sports conferences, they could be together permanently ...
*Grove City-Hickory: This ranks No. 2 among active series with 74 all-time meetings. Hickory leads 41-30-3.
*The obvious geographic games: Grove City-Slippery Rock, Greenville-Reynolds, Sharon-Hickory, Lakeview-Mercer, Kennedy-Sharpsville-West Middlesex.
That's all for now. Feel free to email thoughts to ryanbriggs@zoominternet.net.